Energy Healing Techniques by
Orlando Intuitive Healing
Kathleen L . Quinlan, LMT MA34322 – Orlando Intuitive Healing
Energy Healing and NLP Life Coaching – Certified Since 2001
Local Central Florida Energy Healing Techniques
by Orlando Intuitive Healing Intuitive Healing Services by Kathleen Quinlan, LMT
Energy Healing can enhance any practice in healing for the beginner to the advanced facilitator.  We realize that the mind, spirit and body and our soul has deeper levels of integration and need to be "tuned-in to our highest vibration (the God Source).
Intuition comes from the source of all things as we tap into the energy.  We can change energy patterns from a diseased body and mind and spirit to change the DNA.  It is the source that we came from … all that is!
God is in all Matter, in all things (we have the power to connect and change the DNA.  As a massage therapist it is an addition to your practice. A mental health practitioner or physician can use it before and at the end of the day to clear their own energy system and have more energy at the end of the day! (Schedule a workshop)
OUR VISITORS LOVE ORLANDO INTUITIVE HEALING
"She has the ability to reach deeper levels of my consciousness that lifted some heaviness that I have carried too long in my life, that is one of her greatest gifts her deep intuition healing the core of our inner state." Things we hold onto that we didn't even know was keeping us from our next level in our life. I am now a steady client and live my life happier than I have in years. Thanks to her and her touch! When I came to Kathleen's office it wasn't what I expected, " Just another so called healer. I told her I heard that she works with Cancer, and I had a lung lower left quadrant that had a tumor that I was having to have removed. She worked on that area and after 3 visits she said, go and get an MRI before you have the operation. My wife and I went to NY and returned with tears in her office, the tumor was gone! We all had tears.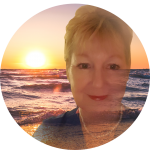 Kathleen Quinlan, LMT practices
Rainbow of Light Energy Healing Therapy
Rainbow of Light - Energy Healing
Rainbow of Light Energy Healing Therapy is  good for your transforming  Heart and Soul
 A Therapy all of it's own.  Kathleen Quinlan uses her gift of knowing things about the person as a guide to gently remove old patterns.   To raise the vibration in a person so they can remove the blockages that stop them from being the best they can be.   
 As she uses her gift of reaching into deep levels of the emotional or physical issues that she feels must be cleared in a persons past or present life issues (trauma) (life changes) and different life events, past to present events. She addresses many physical issues. People who are feeling drained emotionally and physically may cause disease in the body, such as:
cancer 
skin disorders
nerve damage
fatigue and arthritis joint pain
weight problems
low self esteem and more
 When Kathleen clears the life force that is stagnant or diseased energy spots. (Pain centers) then the body can restore it's full potential (Mind) (Heart) Healing the body then follows.  During a session,  you may experience a feeling of density in one area of your body feeling lighter after the session.  Emotionally and physically REMOVING blockages and soul clearing.
Connect with our Spiritual Intuitive Healer Today
Rainbow of Light Energy Healing
Did you know that the physical body and emotional body has a soul cell memory? It holds it's own vibration that stores emotions (positive & negative) in the organs.  Kathleen Quinlan has an innate ability to feel, see,  and know things that were stored in the soul memory of a person.  There is past to present soul memory that may have a profound negative affect in a person of physical and emotional issues not moving past these cell memories that can cause emotional disease.
Kathleen Louise Quinlan with Orlando Intuitive Healing is a nationally certified Licensed Massage Therapist, LMT (MA-34322).  She holds two national certifications in healing and therapeutic massage from the U.S. and Thailand since 2001.
FOR MORE INFORMATION ON SERVICES,  SEE BOOK A SESSION!
(407) 924-3363
Tuscawilla Office Park
 Transformational Heart and Soul Healing 
ORLANDO INTUITIVE HEALING

1612 Town Plaza Court
Winter Springs, FL 32708
Call for directions and to book your appointment!
Phone sessions are available by Appointment only.
If you need to cancel, please do so within 48 hours prior to your appointment, or the service will be charged full price on your next visit.

Please call for more information.  Pricing is per session. Find Us On Facebook! Click Here.